Flux
foyer of Almåshallen, Lindome
painted acoustic panels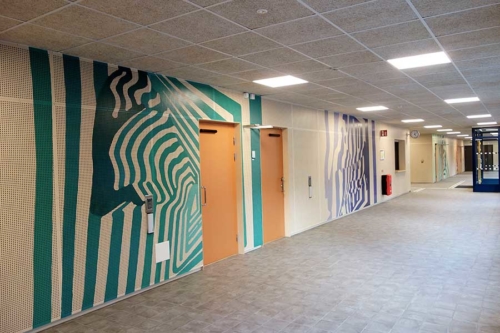 The starting point for the work in the foyer of the new sports hall is motion waves. The body's movement in the room is transformed and passed on in the room.
The body's movement continues in the room through motion waves that arise through a feedback projection. A feedback projection arises through the interconnection of a camera and a video projector. Everything that moves in the projection is projected in real time on the wall, where it is resumed by the camera which generates an infinite feedback.
The movement patterns are generated by the body's movement and are mostly abstract, but it is possible to derive the body's original form. I was looking for movement patterns of scenes that could arise in the sports hall, such as ball games, running, handstands, football, floorball, basketball etc.